Pre-Order the Film on DVD or Blu-ray

"The electric guitar has dominated popular music for the last half century. Anyone who has ever plugged into an amp understands its power. So does the average stadium crowd. But if you have too much exposure to amateurs, you might forget the incredible range of expression that the creation pioneered by Les Paul can achieve in the hands of masters.
"Director Davis Guggenheim, well-known for his Academy Award-winning documentary
An Inconvenient Truth
, deepens our appreciation for going electric by bringing together three virtuosos from different generations: Jimmy Page of Led Zeppelin, The Edge of U2 and Jack White of The White Stripes.
It Might Get Loud
weaves together their stories to reveal how each of them developed a unique sound.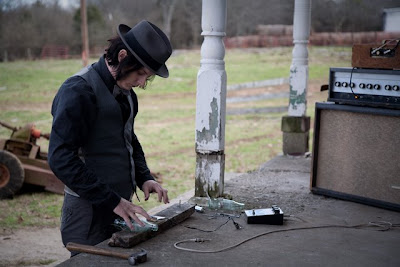 "Unlike rock 'n' roll documentaries that focus on backstage drama, this one concentrates on the music, giving us intimate access to the creative process. Each guitarist describes his own musical rebellion: Page against the saccharine pop of the sixties; The Edge against the self-indulgent solos of the seventies; White against the soulless bass machines of the eighties. The film also travels to the locations that left a mark on each player. Page visits the stone halls of Headley Grange where "Stairway to Heaven" was composed. In Dublin, The Edge pulls out the original four-track rehearsals of "Where the Streets Have No Name." And in Tennessee, White describes being inspired by the raw style of bluesman Son House. What's more, we see each musician play new work that has yet to be released.
"The trio comes together for a jam session, during which they demonstrate their varying tastes in gear, from Page's double-neck guitar to The Edge's array of accessory pedals to White's cheap plastic instrument. Contrary to the stereotype that rock 'n' rollers are sullen and guarded, these three display an infectious joy when discussing their craft. Anyone who has ever played air guitar along with a Zeppelin song will be thrilled watching Page mimic the licks of one of his own favorites, Link Wray's "Rumble."
"You don't need to be an aficionado to enjoy the pleasure of this company. This film might not affect how you play, but it will change how you listen."